A needle head
for every need
The excellence of the Fomaco innovative designs is especially found in the design of our various needle heads. We have developed needle heads to cover every product from fragile tissue injection to injection of bone-in meat products and for injection of both brine and marinade allowing for an optimized production of salmon curing, for instance. There is a needle head for every need.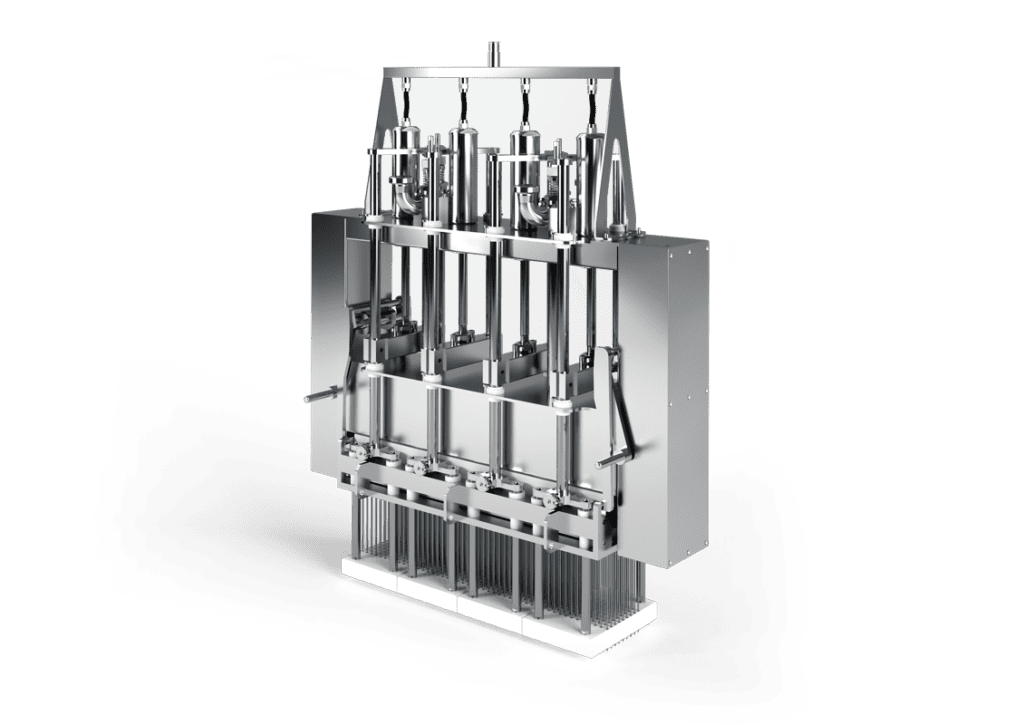 The BLP needle head is constructed as a pump-to-product system ensuring an optimized brine flow as well as eliminating sediment build-up. The high performance centrifugal pump provides a constant brine pressure irrespective of the number of needles in the product, giving a uniform brine distribution regardless of product size.
With the BLP quick release system you can dismantle the full needle cassette in a matter of seconds. Inspection, cleaning and
disinfection has never been easier! This also allows for an instant exchange with a clean needle cassette.
In addition, the needle head features:
Designed as a pump-to-product system for improved hygiene
A wash table for all loose parts during cleaning
Improved cleaning functionality for needles and lower needle head section
To accommodate all production needs of boneless red meat products, the BLP DS needle heads comes in two different sizes, each with varying advancements, injection area, needle types, needle density and number of needles.
BLP DS NEEDLE HEADS
Advancement: 87-130-260 mm
Stripping heights H1: 55-75-95 mm
Available needle types: Double-quadro
Injection area W1 x L1
FGM 48: 400 x 260 mm
FGM 64: 540 x 260 mm
FGM 88: 720 x 260 mm
FGM 112: 940 x 260 mm
Number of needles
FGM 48: 260 pcs 
FGM 64: 351 pcs 
FGM 88: 468 pcs 
FGM 112: 611 pcs 
Compatibility
FGM 48 / FGM 64 / FGM 88 / FGM 112
Minimal wear parts 
Uniform and close needle pattern
Over the past 45+ years Fomaco has gained global recognition. Our passion, creativity and hard work has got us where we are today and it is the same core values, which will see us into the future.