The M3 comes in four different sizes, each with a different number of head configurations available, allowing for total customization. Due to the modular design, identical programs and because the exact same construction principles have been applied to all components and controls, installation and use have never been easier.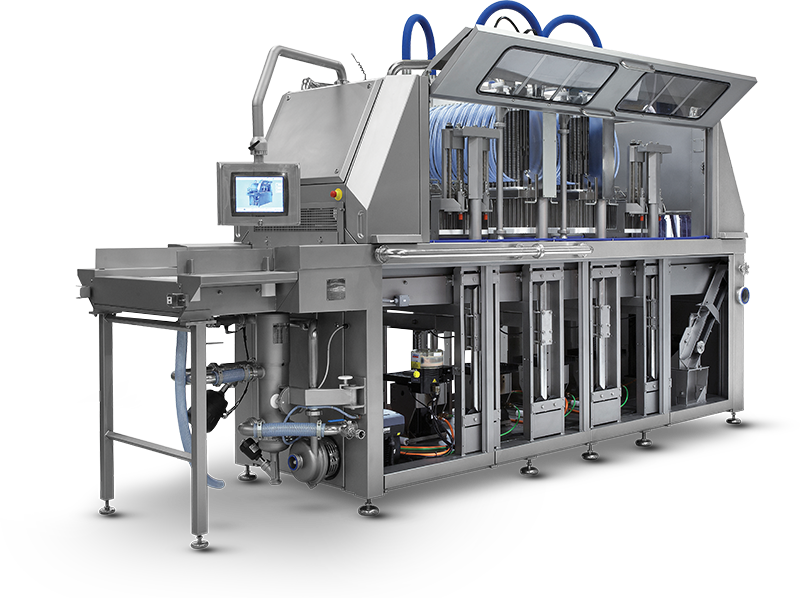 MAXIMUM MOVEMENT CONTROL
With the M3 you are the one in control. Independent spindle motors for each needle head enable the M3 to adapt to the height of your product. It is even possible to define the movement range of the needle head from top to bottom, giving you an unprecedented control of the salt and marinade distribution. The linear acceleration during injection ensures a uniform salt distribution from top to bottom.

RELIABLE - EVEN IN AGGRESSIVE ENVIRONMENTS
The M3 is a series of thoroughly tested, high quality production machines designed to operate in highly demanding and aggressive production environments. The 'box-in-box' construction seals and protects critical electrical components and controls from water ingress, humidity and atmospheric salt.

OPTIMIZED FLOW FROM PUMP TO PRODUCT
At Fomaco we constantly improve and enhance the performance of our machines. Our use of state-of-the-art pump systems has eliminated dead zones and low flow areas, ensuring a constant pressure and a precise flow rate. The result is a uniform brine distribution - regardless of product type, size and number of needles.

NTELLIGENT SOFTWARE FOR IMPROVED PRODUCTION MANAGEMENT
To provide a smooth and uncomplicated production process the M3 comes with advanced, built-in software. Remote Device Manager (RDM) allows for troubleshooting and updating of the machine directly from the Fomaco facility in Denmark. This both saves valuable production time and minimizes potential downtime. In addition to providing an unlimited number of preprogrammed production profiles, many routines are fully automated:
Automatic lubrication
Automatic monitoring of brine temperature
Automatic control of min. pump pressure
Automatic troubleshooting
Automatic cleaning program
Everything is controlled from the both user friendly and highly intuitive touch screen mounted on a swing arm for convenient operation at all angles.
Last but not least data such as temperature and brine levels are transmitted from filters and brine mixers/storage tanks, while the Inline Weight Controller (IWC) constantly monitors the injection quantity and corrects the settings in case of irregularities.
Relevant configurations for

Fomaco M3
Configure your machine to match your product with the following configuration options:
Relevant equipment for

Fomaco M3
Choose the relevant equipment to optimize your production flow:

STATE-OF-THE-ART, SELF-CLEANING PROTEIN FILTER
The M3 comes with a fully self-cleaning protein filter - the FM 80 - uniquely designed to remove all impurities in the brine, preventing the fine needle holes from blocking. This not only ensures an even brine distribution, it also eliminates operator involvement in filter cleaning and maintenance.

ADDITIONAL FEATURES
Possible Trafo installation
Possible SCADA integration
Large windows in the upper doors allow for inspection during operation

CLEANING HAS NEVER BEEN EASIER
An automatic, computerized washing program, a self-draining mechanism, and a number of other unique features make cleaning the M3 series both thorough and quick:
Everything is manufactured in stainless steel and food approved plastic materials
All electrical components are fully protected so that special care is not needed when cleaning the machine
The pump and the entire brine system can easily be taken apart
All joints are mounted with hygienic fittings and completely isolated from the electrical installations
All pipe connections are exterior to lower cabinet
All pipes are assembled with hygienic dairy fittings
All pipes are easily disassembled for inspection and cleaning
Technical
specifications M3
| | FGM 48 | FGM 64 | FGM 88 | FMG 112 |
| --- | --- | --- | --- | --- |
| Needle head | 1-90 Strokes per min. | 1-90 Strokes per min. | 1-90 Strokes per min. | 1-90 Strokes per min. |
| Transport system | Conveyor belt – stainless steel or plastic (PEHD, Intralox) | Conveyor belt – stainless steel or plastic (PEHD, Intralox) | Conveyor belt – stainless steel or plastic (PEHD, Intralox) |  Conveyor belt – stainless steel or plastic (PEHD, Intralox) |
| Transport system (width) | 420 mm | 550 mm | 750 mm | 950 mm |
| | | | | |
| --- | --- | --- | --- | --- |
| | SINGLE HEAD | DOUBLE HEAD | TRIPLE HEAD | QUADRO HEAD |
| FGM 48 | 980 kg | 1370 kg | | |
| FGM 64 | 1070 kg | 1470 kg | 1870 kg | |
| FGM 88 | 1240 kg | 1675 kg | 2350 kg | 2785 kg |
| FGM 112 | 1650 kg | 2100 kg | 2850 kg | 3300 kg |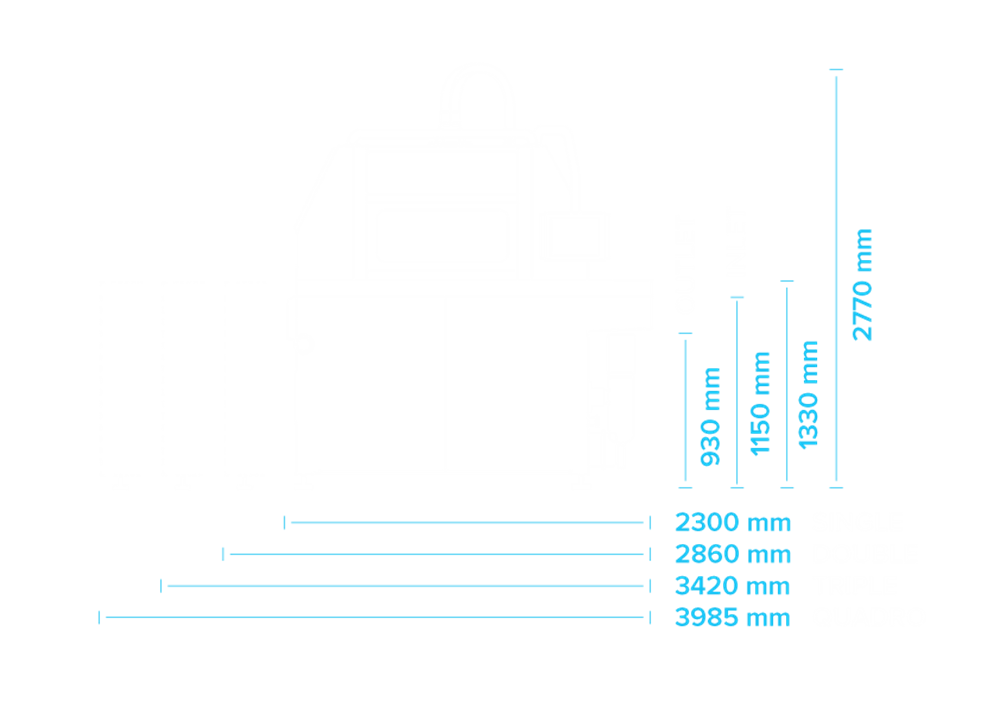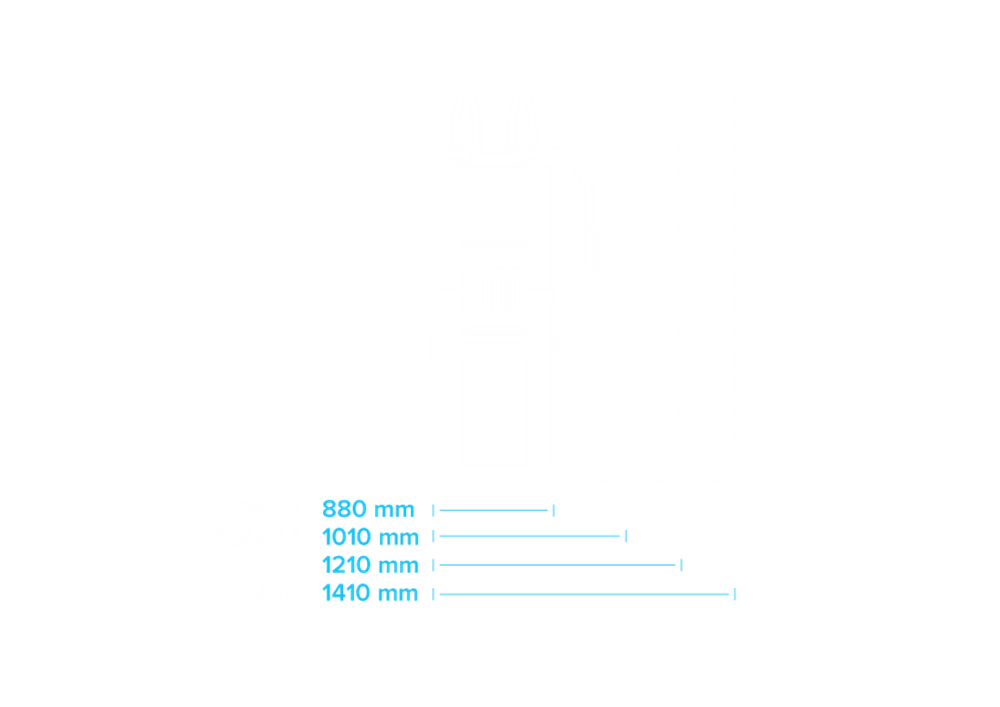 Over the past 45+ years Fomaco has gained global recognition. Our passion, creativity and hard work has got us where we are today and it is the same core values, which will see us into the future.